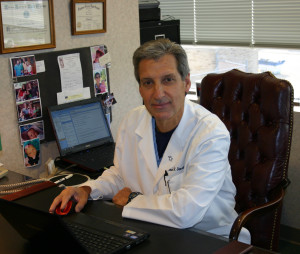 David R. Stout, MD
Dr. Stout is a "country doctor." He began practicing medicine in 1980 in the Indianapolis area.  In 1981 he realized his passion and love for medicine would best fit in his hometown of Seymour.  In 1981 he founded Family Medical Center .
Dr. Stout graduated from Indiana University School of Medicine in 1977.  From there he continued his medical training at St. Vincent's Hospital in Indianapolis .  In 1980 he was board certified in Family Medicine and has been recertified every seven years, having just completed his last recertification with the American Board of Family Physicians in 2009.
Dr. Stout is married with two daughters and three grandchildren.  His interests in family health care over the years have spanned the spectrum from obstetrics, having delivered over 2500 babies, to geriatrics and care for many of his "life-long" patients of nearly 30 years.  Though Dr. Stout has "retired" from the practice of obstetrics, he enjoys utilizing his specialized skills in endoscopy where he performs both upper and lower gastrointestinal endoscopy.
In his spare time, Dr. Stout enjoys fishing, gardening, music and just spending as much time as possible with his grandchildren.
Dr. Stout is also a strong believer in using his blessings to be a blessing to others through the gifts that God has given him.  He is active in the Nehemiah Vision Ministries and has served on numerous medical mission trips to Haiti .  Currently Dr. Stout is working with this Christian ministry in Chambrun , Haiti to bring better health, education and hope to this poverty-stricken village.