Retrieve and manage your health information online anywhere, anytime with your computer, tablet, mobile device or smart phone with Family Medical Center's new patient portal, FollowMyHealth™. If you're a patient of Family Medical Center, you can use FollowMyHealth to review your medical information online and communicate with your Family Medical Center office. This is a FREE service provided by Family Medical Center. In order to create your account, you'll need an invitation code (usually the last four digits of your social security number). Please contact our office to enroll and receive your invitation email.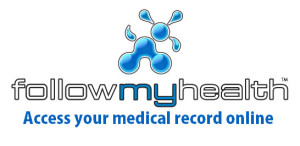 Enter FollowMyHealth now >
When you sign up you can use your user name and password from Gmail, Facebook, Yahoo! or Windows Live. The reasons to use one of these are to reduce the number of logins and passwords you have to remember. Your health information is not linked in any way to these internet registration sites. If you do not have one of these accounts or choose not to use one of them, you can create a new user name and password by clicking the FMH button. Once you have created your account and accessed your health information, we want your online experience to be a positive one. Below are some tips and guidelines to help you make the most of your universal health record.

Appointments
When scheduling an appointment, be as specific as possible by entering the timeframe you desire and the reason for the appointment. If you do not specify a timeframe, the office may schedule the appointment based on physician availability.
Appointments cannot be scheduled, cancelled or rescheduled on the same day. To make changes to or request a same day appointment, you will need to call the office.
Multiple physicians may appear on your health record. This indicates you have either seen them or they have participated in managing your care. Please only schedule appointments with your primary care physician.
Prescription Refills
You may see medications that have been prescribed by physicians other than a Family Medical Center physician, such as a specialist. Prescription refills can only be requested on medications that have been prescribed by your physician or one of their partners.
Refill requests made through the portal can take 24 to 48 hours to process. After that time, call your pharmacy to verify they have received notification from your physician. Requests can still be made by calling your pharmacy.
Messaging
Information you add or change within the My Info and My Health sections of your portal are not transmitted to the office. Any additions or changes you want your healthcare team to know about can be communicated by sending a secure message from the Messages section of the portal.
You will be notified by email whenever the office updates your health information. You can choose to also receive these notifications as text messages on your cell phone or eliminate notifications altogether. To manage your notifications, go to Settings and then Communication Preferences.
Health Information
Medical conditions or problems you have discussed with your provider may not appear online; however, they are documented in your chart.
Tests results, such as lab work, will not immediately appear online until reviewed by your physician.
For questions or concerns about your health information, please contact the office. For technical issues with the portal, click on the Support link at the top of the screen.
Mobile Apps
Please Know
FollowMyHealth should never be used for urgent medical matters. If you need urgent medical assistance, call 911.
If you need a response from the office within 24 hours, please call the office.
It may take two to three business days to receive a response to any FollowMyHealth communication with the office.
The Follow My Health website is secure and configured in such a way that hackers cannot access the information.